| | |
| --- | --- |
| | Eco-Friendly green home & office cleaning methods is an important part of the services that Twin Star Cleaning Services offers its clients in Newmarket, Aurora, Richmond Hill, King City, Vaughan, Sharon, East Gwillimbury, Barrie and all surroundings where we work. Green cleaning is your healthy, positive alternative to traditional cleaning. |
Today, improvements in environmentally safe cleaning products have reduced the need for harsh cleaning chemicals in many cases, and the environmental benefits translate to real health benefits for both our clients and our employees. Green cleaning is using environmentally safe cleaning products, equipment, and methods that do not endanger environment, people, or animals.
For eco-friendly house and office cleaning we use one of the best brands in natural cleaning "Green Works", as well as baking soda, vinegar, Murphy Oil, etc. Green Works are often as effective as conventional cleaners but made from plant-based ingredients. The products are biodegradable, non-allergenic, packaged in bottles that can be recycled and not tested on animals.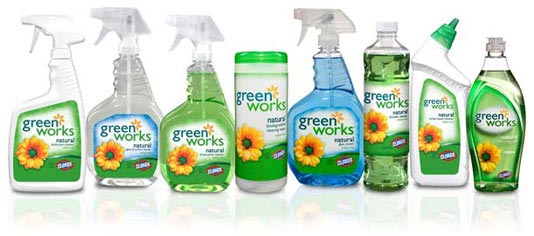 Green Works Natural All-Purpose Cleaner works on grease, grime, dirt, soils and messes, and is safe on multiple surfaces throughout the kitchen and bathroom including counters, appliances, stainless steel, sealed granite, chrome, cooktop hoods, sinks and toilets.
Green Works Natural Glass & Surface Cleaner cuts through filmy residue, and is safe on multiple surfaces throughout the kitchen and bathroom including glass, mirrors, appliances and stainless steel.
Green Works Natural Toilet Bowl Cleaner removes rust, mineral deposits, and hard water, and is safe for plumbing and septic systems.
Green Works Natural Dilutable Cleaner works on grease, grime, and dirt, and is safe on multiple surfaces throughout the kitchen and bathroom including non-wood floors, counters, sinks, stoves, garbage cans and toilets.
Green Works Natural Bathroom Cleaner works on tough stains like soap scum, hard water, and rust, and is safe on multiple bathroom surfaces, including counters, sinks, tubs, tiles, and shower doors.
We use Kenmore canister-style HEPA vacuums exclusively. HEPA (High Efficiency Particulate Air) exhaust filters help to capture 99.9% of dust particles, the irritating particles that may cause allergies and/or respiratory problems.
Either you are an existing client who wants to switch to eco-friendly house or office cleaning, or a new client preferring to go with green products in your home or office, all you have to do is simply tell us that you require eco-frindly cleaning, and we will take care of the rest.
Twin Star Cleaning Services eco-friendly home and office cleaning is available at the same rates as conventional cleaning service in all areas where we work: Barrie, Bradford, Newmarket, Aurora, Keswick, Schomberg, King City, Nobleton, Richmond Hill, Vaughan, Thornhill, Markham, Sharon, Queensville, East Gwillimbury and surroundings.
| | |
| --- | --- |
| For the health and safety of our clients, our employees and to protect the environment. | |